I arrived at the Shigaraki Ceramic Culture Park hot and sweaty after catching several trains and then walking for 2.5 km from the train station in the hot midday sun. After a quick greeting from Ando san whom I had been corresponding with, there was barely enough time to take my bag to my room before I was told that we had to leave for the local clay shop immediately because it was about to close for 5 days. It was the start of 'Golden Week', Japan's longest public holiday week. Wow, the clay shop! I was confronted by a wall of clay test tiles, there must have been about 100 different clays available, all different colours, textures and firing temperatures.
'So, which ones do you want' I was asked?
I had no idea, it was so hard to choose. Luckily some of the clays were sold in 1kg test batches so I was able to buy about 10 different kinds of clay to test.

Shigaraki is the site of one of Japan's six ancient kilns and one of the oldest pottery producing areas of Japan. It is positioned to the southeast of Kyoto near Lake Biwa and it is the sandy clay from this lake that the potters in Shigaraki have been using for centuries. The clay is particularly suited for anagama firing which is the traditional firing method of this area. Fired over several days, the clay produces wonderful orange, yellow, green, black and grey flashings. The final product is very durable, perfect for the large tsubo or storage jars that this area is known for. But due to its close proximity to Kyoto as well as Nara where the tea ceremony traditions were first established, Shigaraki potters also produced high quality tea wares. In 745 Shigaraki even served for a short while as the Imperial capital until a forrest fire destroyed the palace and the court shifted to Kyoto.

Today there is little demand for the large storage jars, the tea wares or the other domestic ware items that used to be produced here. Instead the area is now known for it's production of Tanuki, a raccoon dog known as a friendly spirit animal that brings luck and prosperity. They are often displayed at the entrances to houses as well as shops and restaurants. And these Tanuki are simply everywhere in Shigaraki. As are the potteries that produce them. And of course there are many clay, glaze and tool shops. The whole city clearly revolves around pottery. Sadly well made wood fired Shigaraki style wares are harder to find, I guess there is just no market for it here and they are more likely to sell in galleries in the larger cities.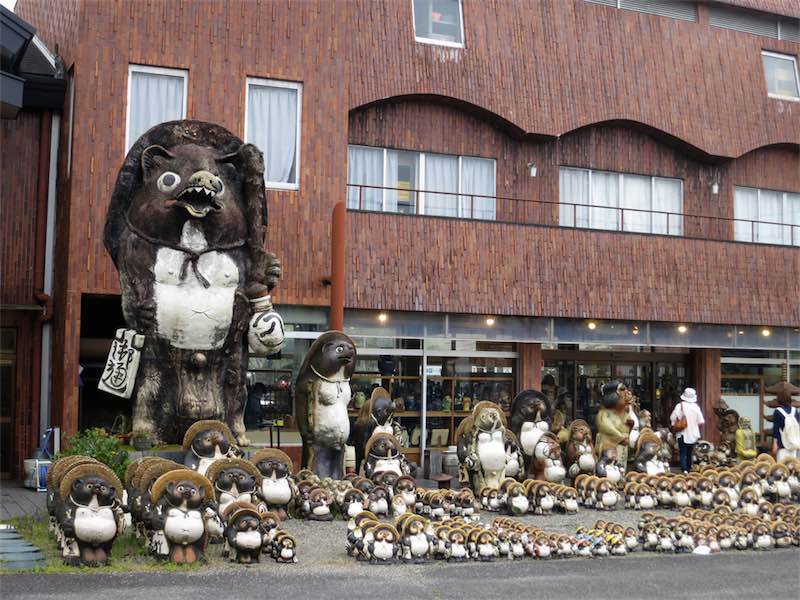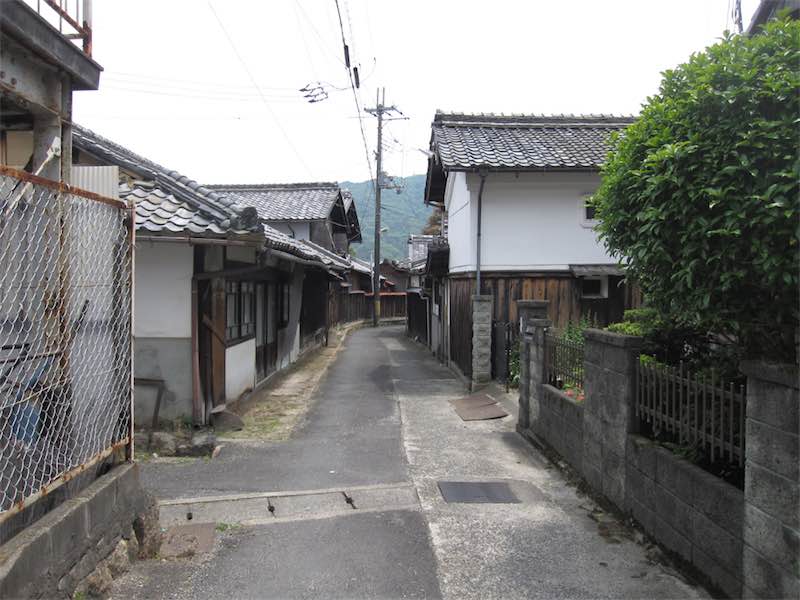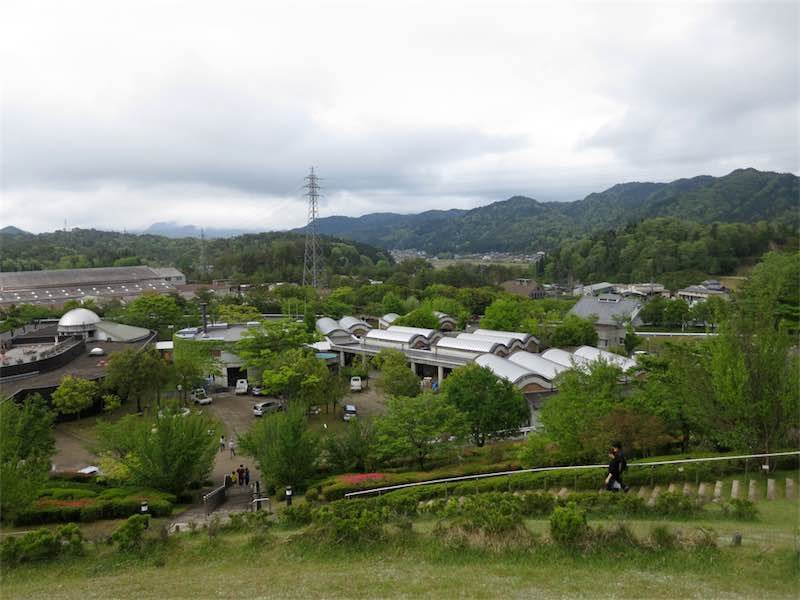 Shigaraki Ceramic Culture Park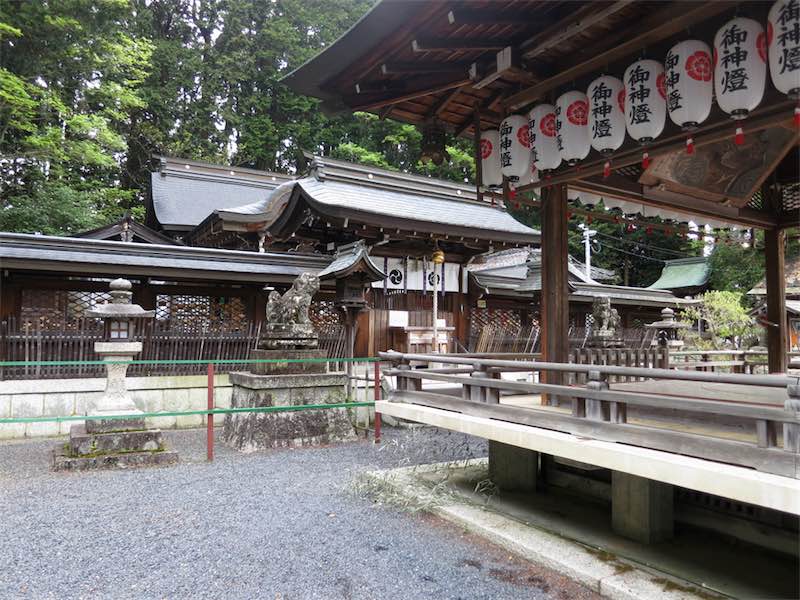 The Shigaraki Ceramic Culture Park was build in 1990 with the intention of creating a venue to revive and promote the local ceramic industry and culture by creating a place for international ceramic training, exhibitions and the exchange of knowledge with the world. Apart from the studios the centre includes 2 ceramic museums, an exhibition space for the artists, conference rooms etc, all set in 40 hectares of parkland. It is full of large scale ceramic works left here by the residents and guest artists over the years. It is an attraction for tourists, local and international who come to Shigaraki on day trips.


Back at the centre I was shown my studio space and introduced to the other potters staying there. Most of them were potters from the surrounding areas, Osaka, Kobe and Bizen, but there was also one lady from Canada and one from Taiwan. It is a wonderful place to work. The facilities are great. There is a large well lit studio with plenty of work benches, shelving and electric wheels as well as an electric slab roller and an amazing drying room that was just like a sauna. There was a glaze room, a plaster room and a kiln building with 5 gas kilns of various sizes, 2 combination electric and gas kilns and 2 little electric test kilns.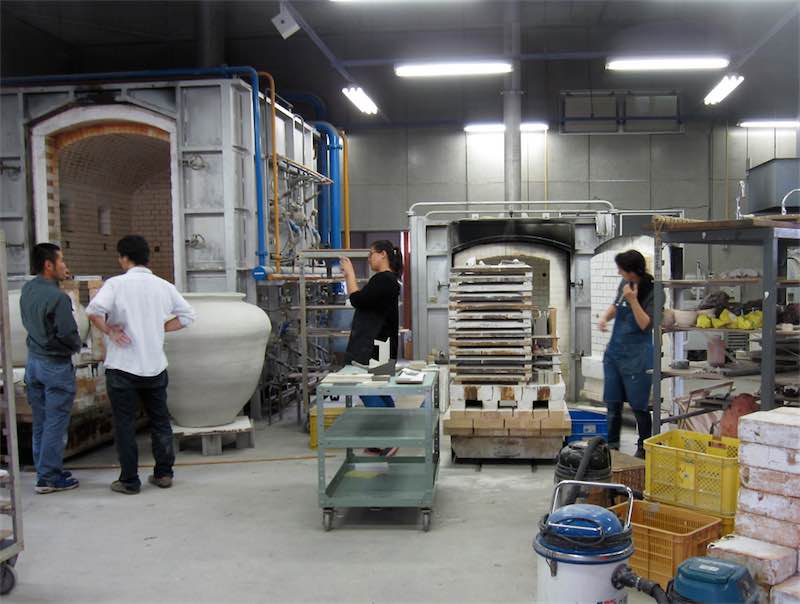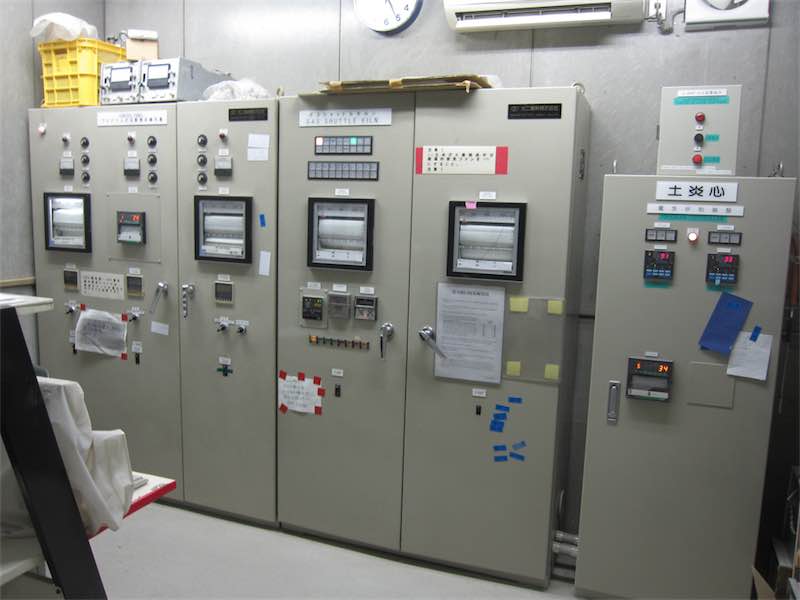 The gas and electric kilns are all connected to a separate control room where the kiln log is recorded automatically. They don't seem to use cones much but rely almost exclusively on the pyrometer readings.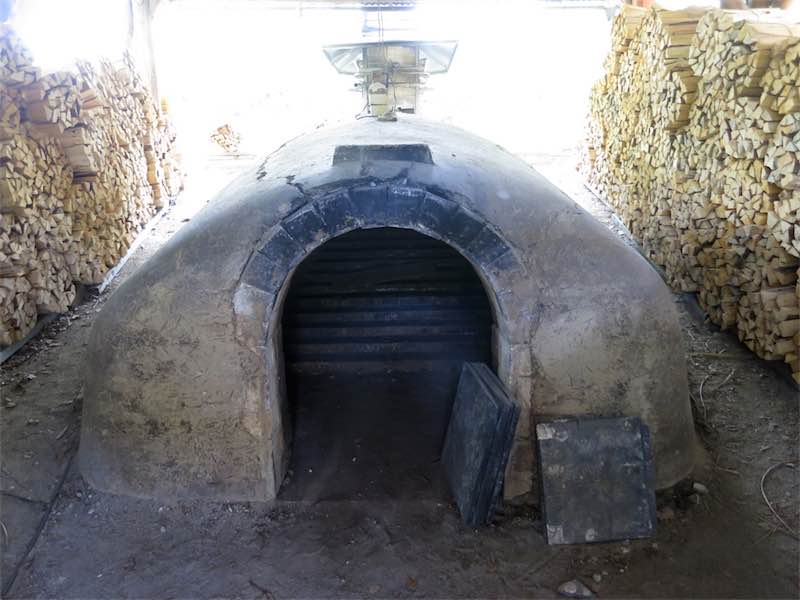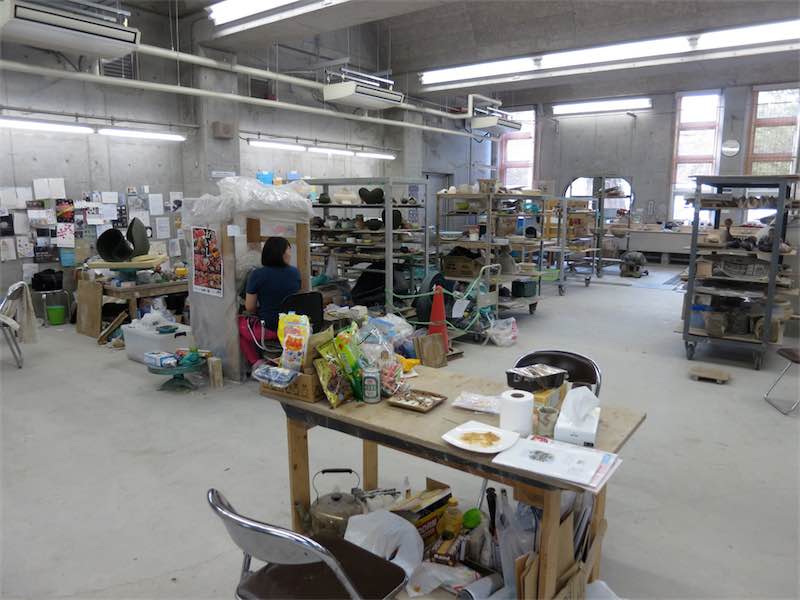 A little ways up the hill were 3 large anagama kilns, a noborigama, a train kiln, a small anagama and an itikoy kiln which is similar to the phoenix kiln in design. I would have loved to fire one of the wood kilns but the wood there is just too expensive.

We were completely free to work whenever we wanted and totally self directed. The studio and all facilities were always open for us to use. Some of the potters only worked at night, others started at 5am. The staff was there to help with materials and technical questions but otherwise we were left to our own devises. It certainly helped to have a preconceived project to work on and to have some knowledge of clays, glazes and kiln firings.The staff were very helpful but language was a problem and it was often difficult to communicate. But despite the language difficulties, the cultural and artistic exchange between the potters was one of the highlights of the stay. The other challenge was the shopping at the local supermarket. Nothing was in English of course and even the most basic ingredients were sometimes hard to pick. Our meals often ended up somewhat different then expected! But it was interesting to experiment with the local ingredients.

My aim during this residency was to study and experiment with the Japanese shino feldspars. I have been working with the western style shino glazes for a number of years now. But the western style shino glaze is very different from the Japanese shino which is essentially just a feldspar mixed with a small amount of clay and fired for a very long time. We visited a local feldspar mine and I ended up using this feldspar called Hata feldspar in one of my glazes. As well as the very white feldspar we found lots of a yellow ochre called onita at this mine. Traditionally shino wares always had an iron decoration. I found it interesting that the 2 materials for this kind of glaze, the feldspar and the iron, were found side by side in the mine. A natural combination!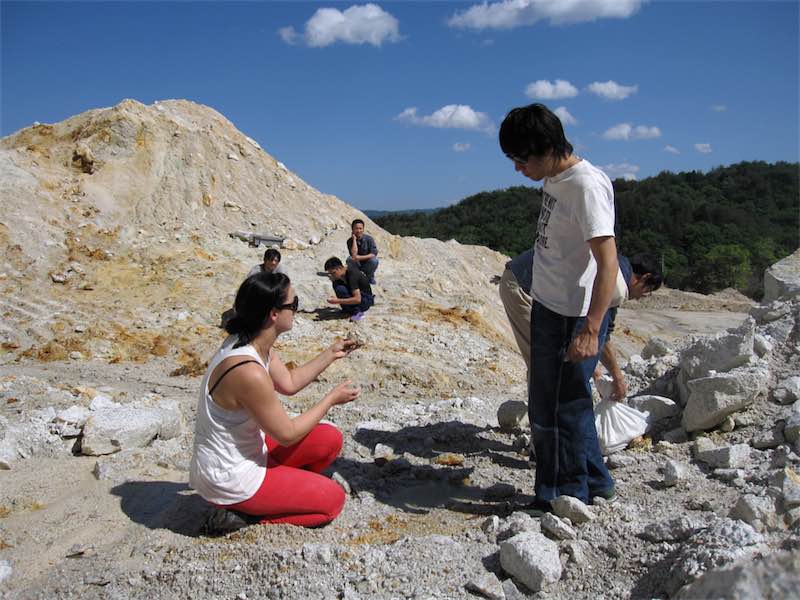 I tested 4 different kinds of feldspar and mixed up as many clay, ball clay and feldspar combinations as I could think of. Because I was only there for 4 weeks there was a limit as to how much testing I could do. Kilns need to be booked ahead of time because they are also used by local potters. So in the end I managed to do 2 glaze firings, the first one almost entirely filled with over a hundred test tiles. Shino glazes like a long and slow firing. My first gas firing lasted 36 hours, 12 hours to get to 1260C, 12 hours hold at that temperature and then a slow reduction cooling to 900C for another 12 hours. Some of the results were very promising, a beautiful satin white shino with pinholing and crazing but there was a lot of carbon trapping in the clay body from the reduction cooling. I was told that the firing was not long enough so the 2nd firing was for 45 hours. Same firing up and holding but an even slower cooling cycle, this time in oxidation. The glaze results were beautiful and the clay bodies looked much better, no more carbon trapping, but most of my bowls had slumped and broken because of the long soak at high temperature. I guess I have a lot more testing to do!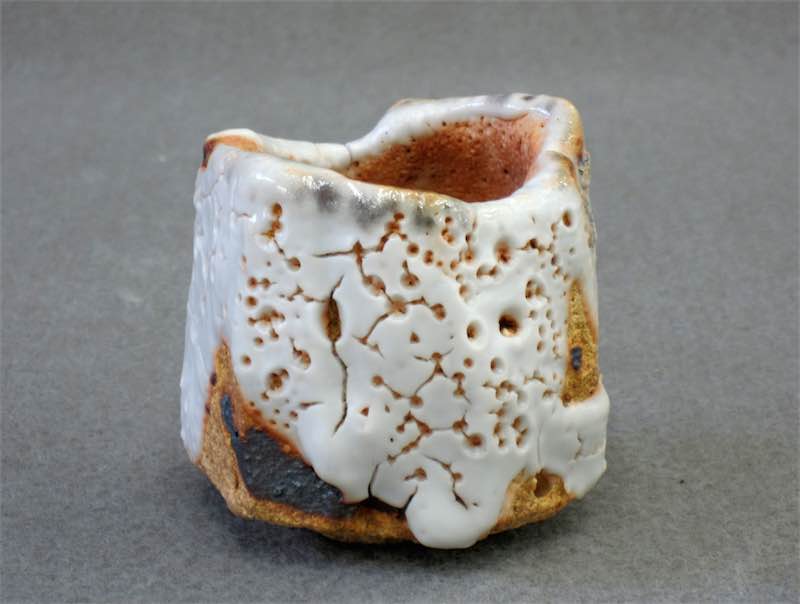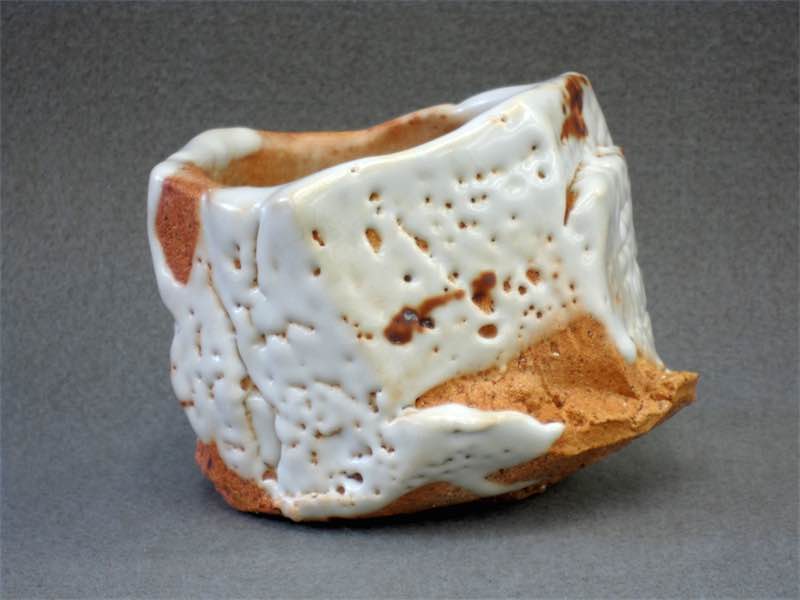 Test pots with Hata feldspar
I had a wonderful stay in Shigaraki and enjoyed my time there very much. It was an wonderful experience living in a very different culture, meeting lots of interesting people and being able to experiment with so many wonderful pottery ingredients. If anybody is interested in a residency there please visit their website at
www.sccp.jp
and you will find all the information needed.
Elena Renker
Ceramics / Pottery
Auckland, New Zealand

© 2016 renker